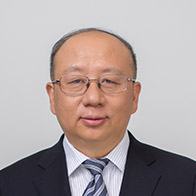 Zhang Jingguo
Chairman, Executive Director and Chief Executive Officer
Mr. Zhang Jingguo, is the Chairman, Executive Director and Chief Executive Officer of the Company and a member of each of the nomination committee and remuneration committee of the Company. Mr. Zhang is also a director of certain subsidiaries of the Company. He was appointed to the Board on 6 July 2015 following the change of controlling shareholder of the Company on 29 June 2015.
Mr. Zhang has approximately 26 years of experience in the real estate development industry in China. From July 1983 to April 1995, Mr. Zhang held various positions at the then Light Industry Bureau of Henan Province, the governmental authority in charge of the light industry in Henan Province, and its associated collectively- owned enterprises, including division chief, engineer and vice manager, where he was responsible for administrative management. From April 1995 to April 2001, he worked at Xingye Real Estate as general manager, where he was responsible for its overall operations. Mr. Zhang and Ms. Huang Yanping ("Ms. Huang") cofounded a real estate company which has become one of the top 100 property development companies in China. Mr. Zhang has served as the Chairman and chief executive officer of this top 100 real estate company since 2001. Mr. Zhang is responsible for the overall strategic planning and general management of our Group and is instrumental to our growth and business expansion. Mr. Zhang is the spouse of Ms. Huang.
Mr. Zhang received a bachelor's degree in radio science from Zhengzhou University in July 1983, an Executive MBA degree from Guanghua School of Management, Peking University in July 2013 and an Executive MBA degree from PBC School of Finance, Tsinghua University in July 2018. Mr. Zhang currently serves as senior consultant of Henan Real Estate Chamber of Commerce, vice-president of Industry & Commerce Association of Henan Province, graduate tutor of Zhengzhou University. During the years of 2016, 2017 and 2018, Mr. Zhang was named "Outstanding Real Estate Developer of Henan Province by Real Estate Association of Henan Province. Mr. Zhang received his senior engineer qualification from the People's Government of Henan Province in May 2012, he received his first class construction engineer qualification from the Ministry of Housing and Urban-Rural Development. Mr. Zhang is also currently a delegate of the 13th Henan Provincial People's Congress since January 2018.